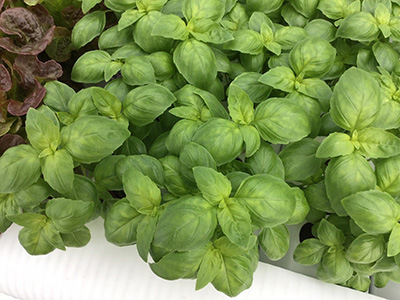 Arugula – Known for its peppery taste and distinctive spicy boost, Arugula will elevate the flavour in any salad, pasta, pizza, sandwich or sauce.
Basil – One of the most popular basils for culinary use, particularly for its use in pesto. Also known as sweet basil, its vigorous, large leaves have a sweet, slightly spicy flavour. A wonderful addition to salads, pizza or grilled vegetables.
Cilantro – Also known as coriander, cilantro has a green, parsley-like leaf that is refreshing, tart and citrusy. Its flavour is earthy and sweet with a floral aroma that releases when toasted. It's delicious in salads, guacamole and sweet and savoury dishes
Leighton's mustard greens mix – A greenshaus original, this mustard green mix consists of Green Wave, Golden Frills, Tatsoi and Red Giant.
Watercress – A green leaf vegetable in the same family as kale and broccoli, watercress has a peppery taste, similar to other related plants like mustard and wasabi. It is delicious in soups, stews and stir fries.